CHA's work on the Monon Trail Bridge over 38th Street in Indianapolis, Indiana, has earned an Award of Merit in the Landscape/Urban Development category in the ENR Midwest 2022 Best Projects competition.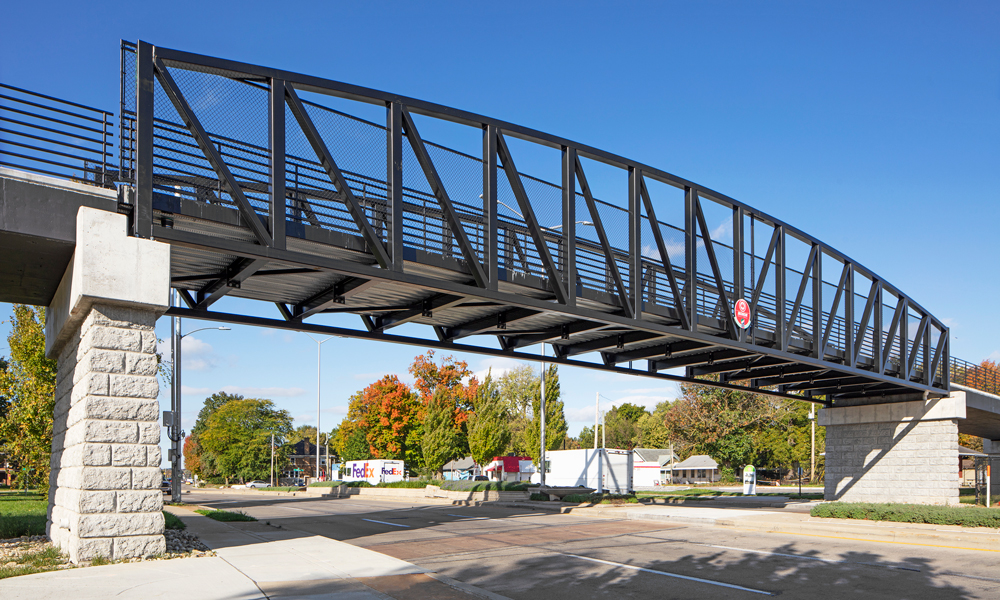 The Monon Trail Bridge over 38th Street significantly improves safety and mobility for trail users, connecting downtown Indianapolis to northern Marion County and beyond. For years the trail intersected 38th Street at grade, requiring people to cross six lanes of high-speed traffic. This 400-foot, 5-span bridge safely carries trail users over 38th Street, near the Indiana State Fairgrounds, while maintaining traffic on 38th Street and along the trail, and mitigating impacts to the historic Boulevard Station.
The main bridge span was designed as a pre-fabricated steel truss to minimize impacts on 38th Street, one of Indianapolis' busiest streets. In under a week, the bridge was assembled in the eastbound lanes of 38th Street, while two-way traffic was maintained in the westbound lanes. On a summer day, this high-volume arterial street was closed, traffic was detoured, and a crane lifted the assembled truss into place. Although contractors had an entire weekend to erect the bridge with the road closed, they placed it and reopened 38th Street by 2:00 PM on Saturday.
This award was presented to CHA at the ENR Midwest Best Project Awards on December 1 in Chicago.